As in our terms and conditions it is always advisable to take out travel insurance whether you are travelling in the UK or the EU. There are many holiday travel insurance packages available that can be found online. Please read carefully through any policy to ensure it is suitable for your motorhome holiday before you purchase.
Coronavirus
With regards to the ongoing Coronavirus situation we are advising that travel insurance should be taken out independently of your booking if in the event the FCO advise against all essential travel within Europe and the UK. Please ensure that your insurance includes this eventuality.
UGo Motorhome Hire have been working hard to ensure that your holidays over the next year and beyond are safe and that you can feel confident to travel in your own motorhome bubble. What could be more perfect than travelling in your own safe space, to another safe space destination provided by a campsite or other motorhome stop over.
At UGo we are taking as many steps as possible to ensure that our motorhomes are free from Coronavirus. As it takes time to thoroughly clean a motorhome we will not allow motorhome pick up up on the same day as a motorhome return. The motorhomes are disinfectant fogged on return and prior to collection. All surfaces and cleaned and disinfected as part of the general clean of the motorhome. All kitchen and dining equipment is washed through a dishwasher. A BS EN14476 antivirus cleaning spray is also included in the cleaning pack for the motorhomes to help keep you and your family safe. On the day of your motorhome handover, a collection time will be organised with you. The collection time will ensure that your collection does not coincide with another.
If you need any further information on the products we use or the procedures we have in place please contact us via the contact form or on the telephone numbers provided.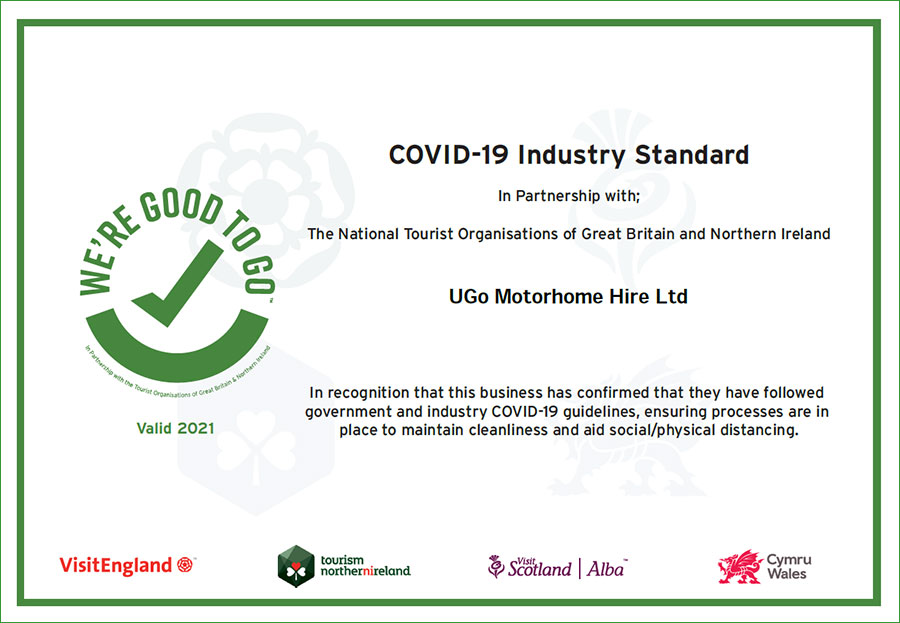 To add value to your camping experience we are members of The Camping and Caravanning Club Privilege Scheme, which entitles you to up to 30% off Club Sites and 15% off Camping in The Forest Sites. In your hire unit you will find a copy of the Camping and Caravanning Club Privilege Guide, which lists all participating sites helping you to choose the perfect location throughout your entire journey. You can also find details of their sites on the Club website www.campingandcaravanningclub.co.uk (opens a new window)
When you've selected the Club Site you'd like to stay on, all you have to do is show them the Privilege key fob, which you will find on the keys of your hire vehicle, on arrival to claim your discount.
How to book
To guarantee your pitch it's best to book. To Book your campsite please call the service centre on 024 7647 5426 for Club Sites or 024 7647 3008 for Camping in the Forest sites and let the advisor know that you are booking under the Privilege Scheme. A minimal deposit will be taken and upon arrival at the Club Site, your due balance will be discounted accordingly on presentation of the Privilege key fob provided. Alternatively, you can make a non-member booking online and follow the same process.
www.campingandcaravanningclub.co.uk (opens a new window)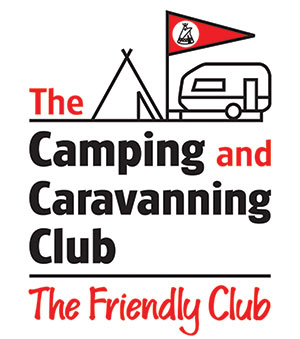 The standard driving licence issued to a driver passing his or her test today covers categories B and B1. This means you can drive a vehicle up to 3,500kg (B) and tow a trailer up to 750kg behind it. All tests taken before 1997 include the categories B1 and C1 which means you can drive a vehicle up to 7500kg.
When choosing the size of your motorhome we would recommend you base your decision on how many beds you actually need.
Berths = beds, so a 4 berth motorhome contains 4 beds which is ideal for families or two couples.
Some offer a fixed bed option which is advantageous as you don't need to make up that bed each night. Some have options for doubles and singles to be made up as required.
It's worth noting that all our motorhomes (apart from the 2 berth compact) are on a larger chassis length, offering more open internal space - the 2 and 4 berths are of a similar length to a 6 berth which can often compromise on living space.
Motorhomes are restricted to the following speed in the UK:
For a motorhome exceeding 3050kg or 8 passenger seats, and not exceeding 12 meters in length
Built-up areas: 30 mph
Single carriageways: 50 mph (even when national speed limit is shown)
Dual carriageways: 60 mph (even when national speed limit is shown)
Motorways: 70 mph
A standard UK parking space is 4.8 x 2.4m and most parking's have limit barriers of 1.85 or 2m. This means that a motorhome cannot go inside the parking, and even if this was possible, you will need more than a single place to park. For all these reasons, the best thing to do is to look for an appropriate parking. Park carefully where you won't cause an obstruction. Check the height and width stickers in the cab for dimensions.
Motorhomes are generally 2.3m wide but up to 3m wide with the wing mirrors folded out, which is about half a metre wider than your average car.
Make sure that you give yourself plenty of space. The extra length of the motorhome means you will need to take the corners more widely than normal, so the back of the motorhome doesn't clip the kerb.
If you find traffic is building up behind you, pull over at a layby or other suitable place and let the other vehicles pass.
UGo motorhomes are all fitted with a motorhome version GPS system. Entering your camper or trailer profile characteristics does not guarantee your camper's characteristics will be accounted for in all route suggestions. Always defer to all posted road signs and road conditions.
It is always a good idea to give yourself plenty of time to get to your destination. Traffic volumes can add hours to any journey. Plan your route beforehand.
Try to book your campsite or destination in advance to avoid disappointment. Study the campsite before you arrive to make sure it has everything you need. Google searches are usually fairly accurate and offer ratings and advice from fellow travellers.
There is a wealth on information on YouTube of hints, tips and "How To" videos.